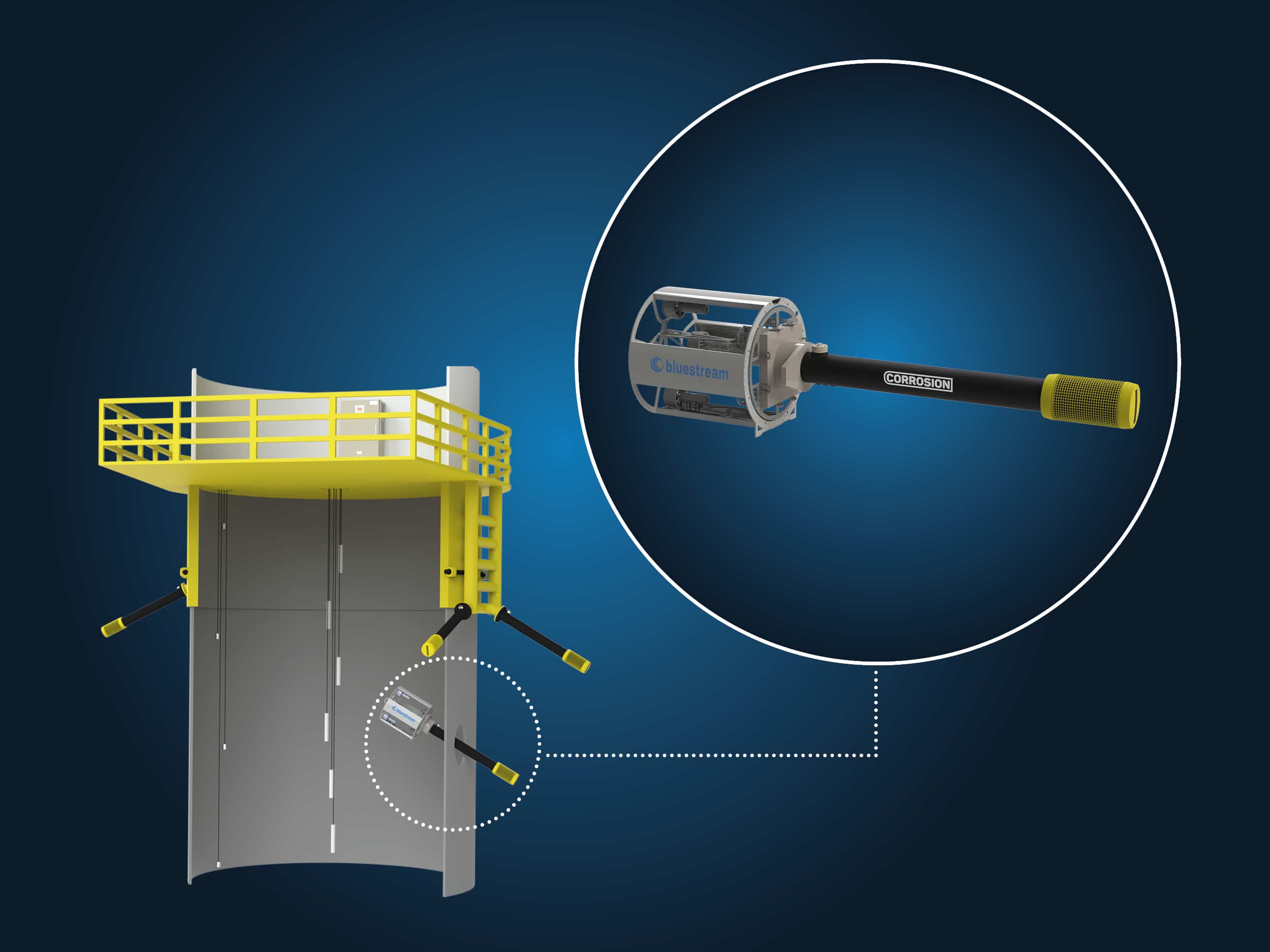 CORROSION and Bluestream launch the 'ICCP-SAM'. The best of both worlds and the future in the sustainable protection of XX(X)L monopile foundations against corrosion worldwide.
The ICCP-SAM is specifically designed to remotely install ICCP anodes on monopile foundations of all sizes, anywhere on the foundation and even in the roughest ocean conditions.
The ICCP-SAM (Subsea Assembly Method) is extremely compact and can be transported and deployed with minimal resources from the topside of the offshore foundation. The ICCP-SAM is operated remotely and maneuvers the anode underwater into the designated foundation entry hole. The anode is then secured to the foundation using the same tool. One of the biggest benefits is that an anode can be replaced in the same way throughout the lifetime of the foundation. Even more important, it eliminates the need for diving operations.
In addition to its infinite applicability to protect monopile foundations of all sizes worldwide, this method of installation leads to major savings in time and money. Unlike traditional methods which require larger installation vessels and a significant amount of secondary steel or a vulnerable CPS construction, this new installation method comes only with a few design requirements and does not require large supply vessels. Another major advantage is that every type of monopile can now be protected in an environmentally friendly way during its entire lifespan. From the moment of installation to decommissioning.
CORROSION and Bluestream worked closely together on this project to achieve a cost reduction during the installation and O&M phase. "CORROSION and Bluestream are delighted to partner up together," said Niels Ros, Manager Offshore Wind at CORROSION. "We worked together intensively to achieve this great result. Not only are we very satisfied with the ICCP-SAM, but also with the collaboration we have built together and the relation in general."
"We believe that by combining forces and expertise from companies such as Bluestream, we can offer (turnkey) solutions to better serve our customers. Together we provide sustainable cathodic protection (ICCP) solutions for offshore wind farms. From design and manufacturing, to commissioning, maintenance and remote monitoring."
"The collaboration with CORROSION has been very satisfactory so far" says Rutger Lieverse, Commercial Manager at Bluestream. "By partnering with CORROSION, we are not only able to bring together the best of product and service for our clients but we're also able to provide a cost saving method for installation and maintenance of ICCP systems."
The new ICCP SAM will officially be introduced to the market at the Global Offshore Wind exhibition in London 14 and 15 June 2023. Interested parties are cordially invited to CORROSION's stand K52 for a personal presentation. CORROSION and Bluestream's representatives will be happy to provide further information and details regarding this exciting new product at the exhibition.
Press release in PDF: Press Release CORROSION & BLUESTREAM – ICCP-SAM